Q3 2020 investment results
US stock market
In the third quarter, U.S. stocks showed strong growth despite the decline in the stock market in September. The U.S. economy was regaining its footing, and the Federal Reserve's statements had a positive effect on the stock market.
The U.S. stock market rally after a sharp decline in March is largely due to the expectations of rapid economic recovery and unprecedented stimulus of the Federal Reserve and U.S. lawmakers to support the largest economy in the world.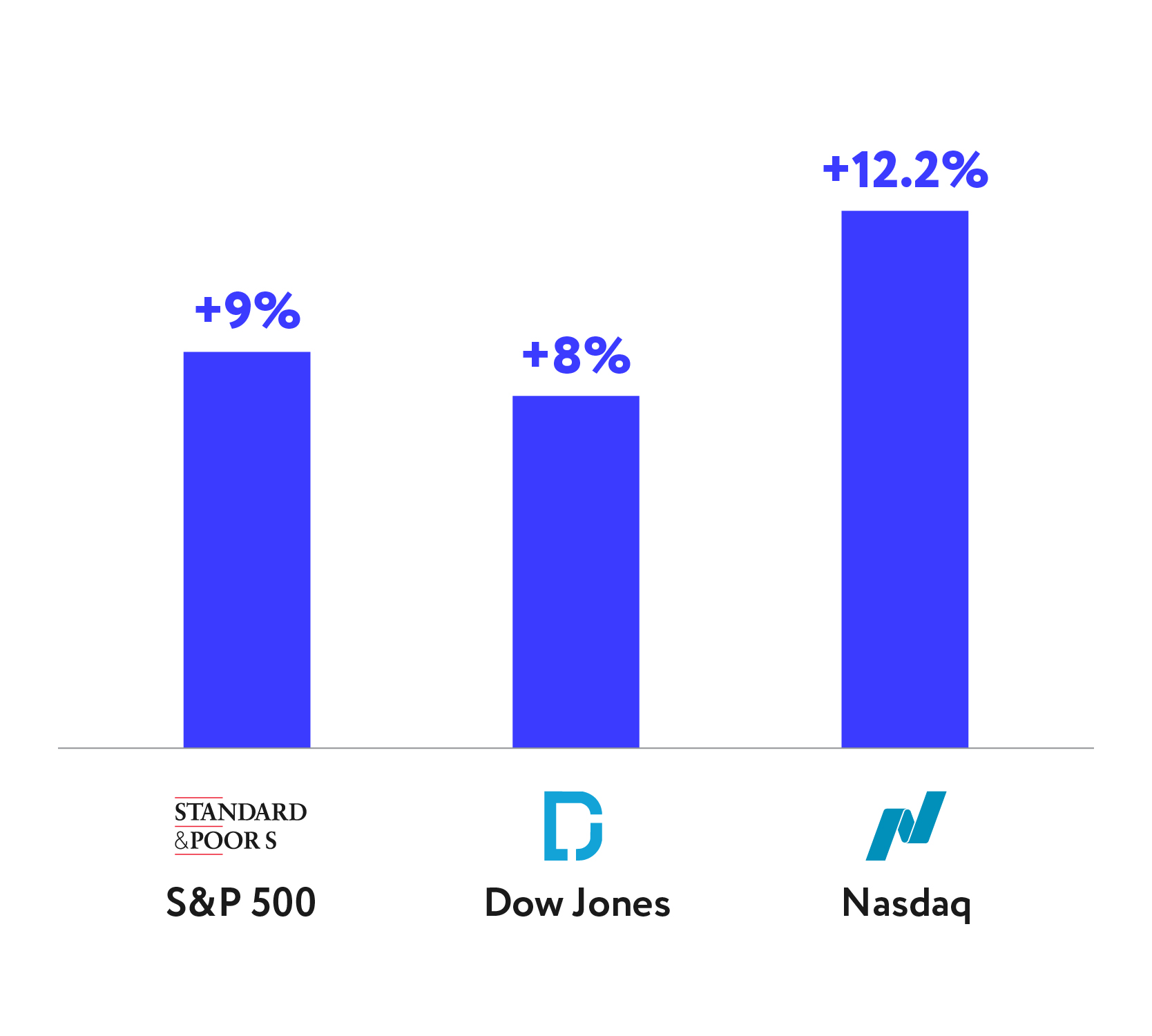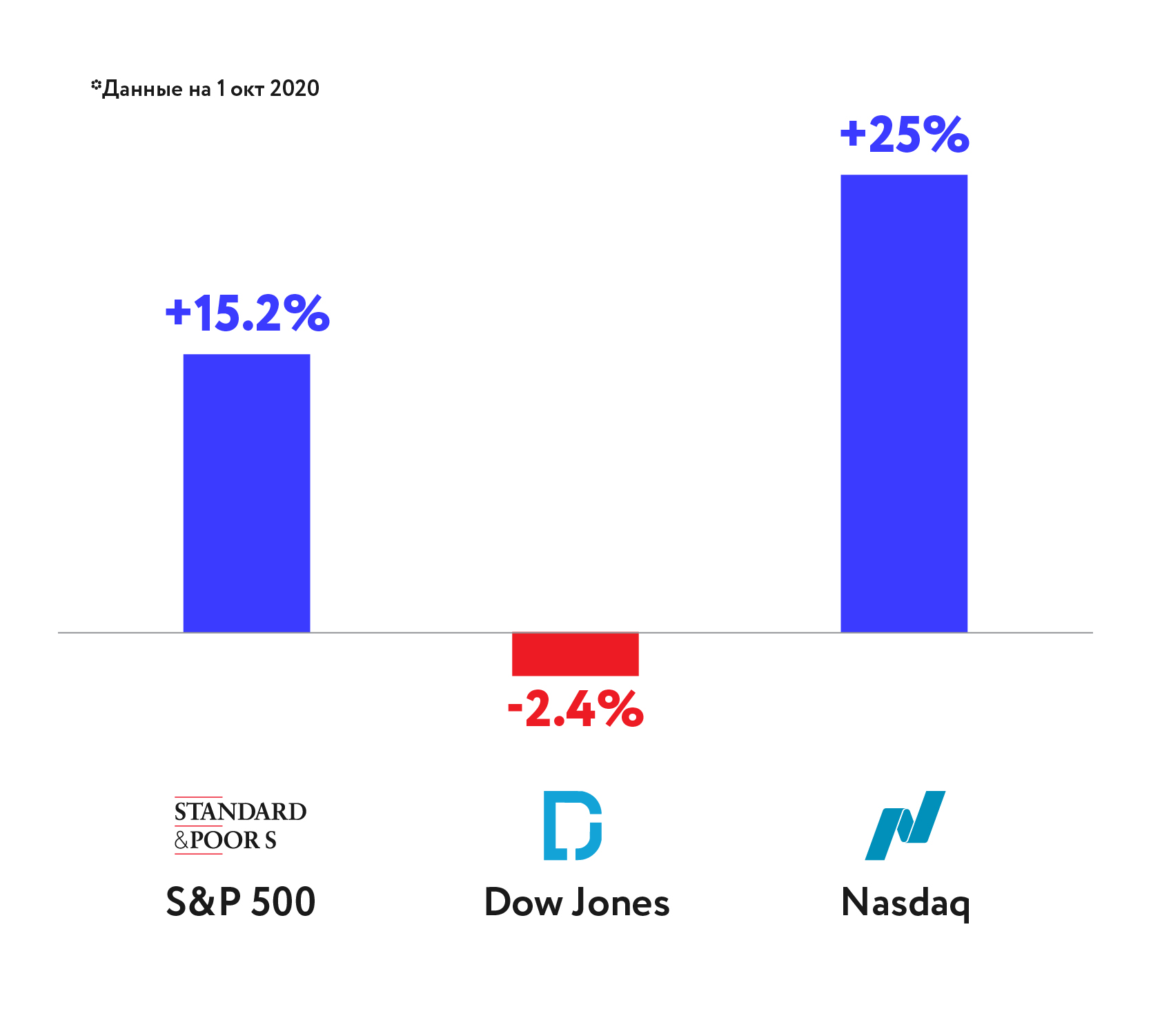 In the coming quarter, investors will watch closely Mr. Trump's and Biden's campaign rhetoric. On November 4 the world will see the biggest political event of 2020, the U.S. presidential election. Will the U.S. economy recover at the end of the year? How long will a Covid-19 vaccine really take? When will we see some real progress with clinical trials? Will the second wave in Europe end in a new lockdown? Will the Federal Reserve change its inflation and interest rate projections? All this will affect the value of stocks in the next quarter.
IPO
In the third quarter, stocks on the IPO market sold like hotcakes. From July to September our investors took part in 24 IPOs of U.S. stocks. Currently, the average return of investments is +87%, average share allotment is 7%.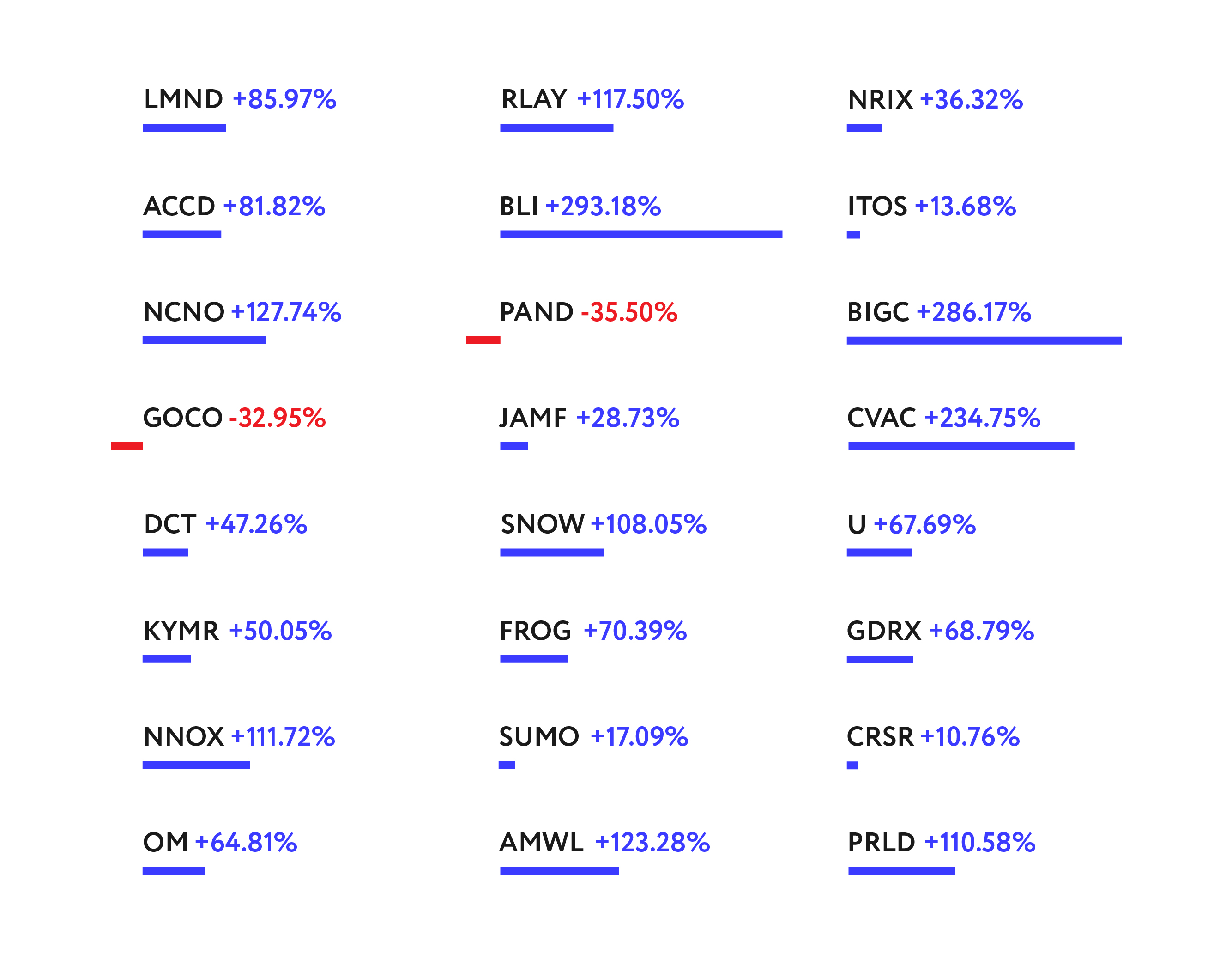 Stocks of private technology startups — Pre-IPO and ОТС
Over the past three months, the stocks of DigitalOcean, Coursera, Robinhood, Airbnb and SpaceX grew. Some companies from our portfolio went public (Palantir) or are going public soon (Airbnb).
DigitalOcean +59% (since November 2019).
The company had a new funding round at a valuation of $1.2 billion. Now a DigitalOcean share on the OTC market is worth $22, which suggests a valuation of $2.4 billion. In August DigitalOcean was ranked in Inc. Magazine's annual Inc. 5000 list, receiving recognition as one of America's fastest-growing private companies.
Coursera +52% (since the beginning of 2020). In July Coursera had a new funding round and raised $130 million at a valuation of $2.5 billion, pushing its stock on the OTC market up to $18. The demand for Coursera shares continues to grow. One share is worth $21, projecting the capitalization at $3.15 billion.
Robinhood +18%. The company had a new fundraising round, and its stock rose to $18 from 15.2$. The capitalization of the company grew by 30% per month, marking record high growth as compared with the previous rounds (in July the company's valuation was $8.6 billion, in May — $8.3 billion).
Airbnb +42% (share price grew to $105 from $74). The company filed for IPO with the SEC. Airbnb is rumored to raise as much as $3 billion.
SpaceX raised $1.9 billion in the largest funding round to date. The stock rose to $275 (+10% to the previous round's valuation, the new valuation is $46 billion). In 2017, when we introduced SpaceХ on our platform, its shares were worth 143$, at a valuation of $23 billion. Ever since the company's valuation grows round after round. The high demand for the company's stock from investors pushed its price on the OTC market up to $340.
Palantir went public via direct listing — the stock opened at $10 per share. We are waiting for Palantir to release its quarterly report that will be used by analysts and investment banks to project the share target price for the coming months.
Actifio extended partnership with Oracle and Birlasoft. The company will provide technical validation to support their mutual enterprise customers. Actifio's support enables thousands of mutual Oracle, VMware, and Actifio customers to backup, recover, clone mission-critical Oracle databases and VMware VMs through its copy data management platform. Actifio is working together with Birlasoft on a joint solution for a leading healthcare customer, building their cloud-based global disaster recovery and SAP backup solution.
H2O.ai announced a partnership with AnyLogic. The relationship enables AnyLogic to bring advanced machine learning and deep learning predictive models to its world-class business simulation platform. It helps simulation modelers and data scientists alike to easily combine the technologies into a single model to gain true insights from their data analysis. The combination of H2O.ai's machine learning platform, Driverless AI and AnyLogi's simulation software helps customers to realize even more value from their data using any cloud or on-premises deployments.
Impossible Foods forged a partnership with Walmart and landed $200 million from its new investor. The relationship with Walmart brings Impossible Foods' total store presence to 8,000 across the US.
New private companies in Q3 2020
We have added four new private companies hailing from Silicon Valley: Udemy*, Fuze*, Autimation Anywhere and Ginkgo Bioworks.
*Shares are already sold out
Udemy — online learning platform with the greatest variety of courses (150, 000). Udemy helps employees at the world's leading companies upskill on a subscription basis, including Adidas, Toyota, PayPal, Lyft, Booking, Pinterest, HSBC. The number of Udemy users soared amid the coronavirus pandemic and online learning boom. From February through late March 2020 Udemy online course enrollments increased by 425%. From March through May Udemy's sales were double the total for the same period in 2019
Fuze — a collaboration software platform that enables easy remote work. Fuze platform offers a seamless transition between voice, video, messaging, and content sharing. The global unified communications market is a fast-growing market and has doubled over the last six months. Fuze's value now is $660 million. We expect its value after IPO to go over $3 billion.
Automation Anywhere platform helps companies tackle routine tasks using bots. The service allows businesses to spend less time and resources on routine tasks and redirect high-value human capital to core activities. It counts Dell, Boston Scientific, Coca Cola Japan, LinkedIn and others as clients. In 2018 Automation Anywhere revenue grew from $74 million to $108.4 million, a growth clip of 47%, good for second place and 12.8 percent market share. The number of customers doubles on a year-to-year basis.
Ginkgo Bioworks — synthetic biology. The company put together a lab that uses robotic systems to make an assembly line for churning out artificial life forms. Ginkgo experiments with DNA and programs cells to create custom-made organisms for their clients. Modified organisms from Ginkgo Bioworks streamline the production of perfumes, beverages, pesticides, and laundry detergent. For a long time scientists sought to optimize the genetic engineering process, but Ginkgo Bioworks is the one biotech that actually succeeded in bulk experimentation. The company applies a rigorous design-build-test cycle and extreme automation of routine tasks to create organisms in a few months instead of years, if not decades.